Durham PreK teachers work hard to provide high-quality learning experiences with Durham's young children. The Durham PreK Technical Assistance team shared some highlights from January and February of 2021, and we want to highlight all of your achievements.
Shoutouts
Ms. Whitely and Ms. Twitty have created a virtual classroom environment that is as warm and welcoming as an in-person classroom would be. Children play an active role in daily activities in many ways. Ms. Whitley and Ms. Twitty have adapted the classroom staple of "Classroom Helpers" to the virtual world with roles such as "Weather Watcher" and "DJ." Their enthusiastic, welcoming and warm approach, with lots of smiles and laughter, adds to an electric, tangible feeling in their interactions, in spite of being together virtually  Children are accepted and encouraged through Virtual High 5s, Kiss you Smart Brains, and the Good Job Bell.  It is such a pleasure to look in on them sharing, laughing and learning together.  Well done, Ms. Whitley and Ms. Twitty.
~ Shawn Shefte
Jennifer Lacewell from White Rock Child Development Center has joined in during some zoom remote learning moments when her teachers lead group time with their virtual students. She shared that this has been an opportunity to connect with students and families who are not in-person and to provide feedback for her staff.
~ Kamika Henderson
Welcome!
We want to welcome our new Durham PreK teachers and teacher assistants – Shenijua Gilmore and Lavana Johnson – and the new Technical Assistance Capacity Building sites – First Presbyterian, King's Kids CDC and Lakewood Avenue Children's School!
Highlights
CLASS Pre Assessments completed this past month show what a difference MMCI Training of teachers makes.  The dimensions that teachers have received instruction and feedback on were consistently in the high range of quality. This is further evidenced in virtual classroom observations and the tangible, positive relationships and environments that have created.
Completed 5 Webinars
Oxford Manor Head Start - Pam Jones, LaTausha Tabron
Child Care Network #57 Ruby St - Crystal Boycher, Shanell Davis, Teresa Davis
Child Care Network #166 - Kadijah McDonald
Child Care Network #57 - Ada Terry, Director
Triangle Day Care Center - Beverly Fields
Kiddie Kollege - Cassandra Wise
Certifications:
CLASS PreK Observer Certification: William Lucas (Mr. Lucas is the administrator at First Chronicles Daycare in addition to running a business he is enrolled in school at ECU).
Completed/Enrolled in School
Child Care Network #166  Ariel Rhody completed her NC EArly Childhood Administration Credentials. Ariel Rhody is a teacher assistant she is very passionate about working with young children and completing her education.
William Lucas is enrolled in the Post Baccalaureate Teacher Certification B-K Add on Licensure at ECU
Awards
Brown's Early Learning Center earned a grant for their classroom garden
Director: Cheryl Brown
McGriff Insurance - the donor's name was Robert Carter.
The agency that helped secure the grant is listed below:
The projected install date is the week of March 15, 2021.
Julianne Reas 
Gardens For Everyone Project Coordinator / AmeriCorps Service Member
gardensforeveryone@foodshuttle.org
(C) 919-410-8165
Classroom Activities
Children's Campus at Southpoint: To honor Black History Month children were allowed to select someone who  is African American who has contributed to our country. They could do a role play and/or do a poster  showing their contributions.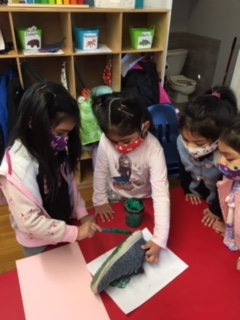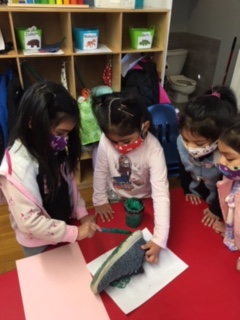 Brown's Early Learning Center: Conducted a study of clothes, children were very interested in shoes. The teachers traced around the children shoes, children then colored and cut them out. Children compared them by sizes with their friends and measured with a ruler. Children then made a chart from the smallest to the largest shoe. After watching a video about how shoes are designed, the children drew the shoes they were wearing. For a group activity the children picked the shoe they liked, and made suggestions about colors and designs that could be added to the shoe.
Teacher: Jennifer Fisher     
Teacher Assistants: Tierra Garret, Ms. Rosie