Durham Early Educator Apprenticeships
Your path to better pay
and a free degree
How can an apprenticeship support me in my early childhood career?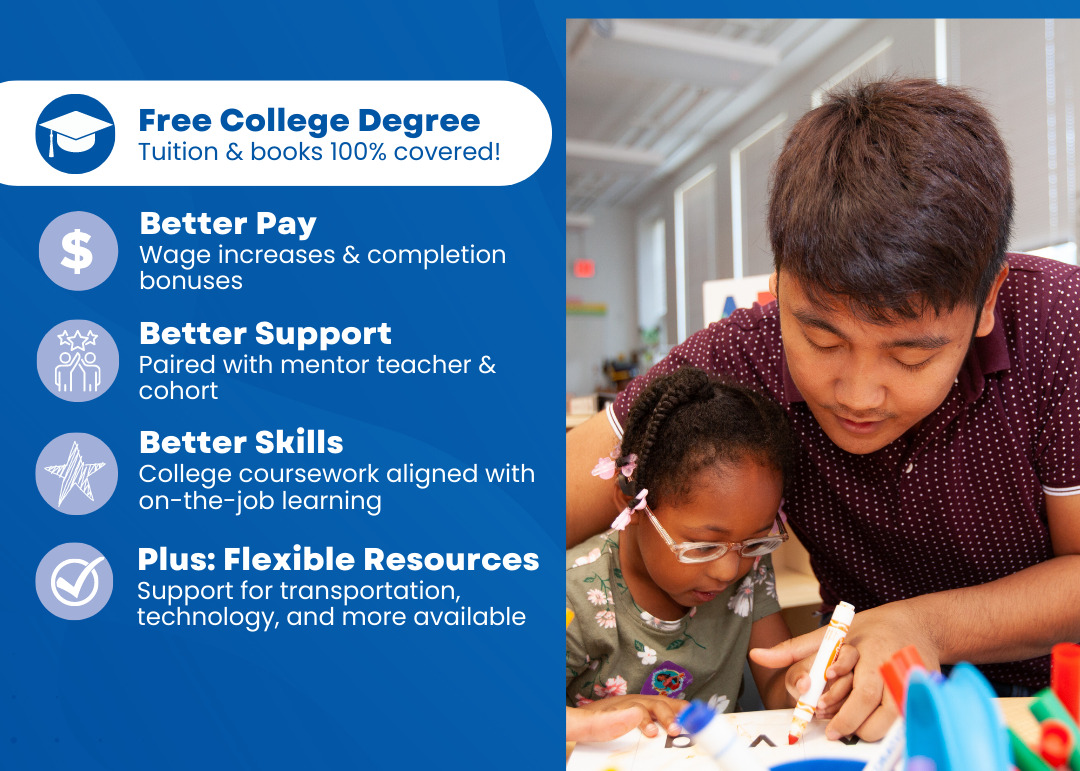 Who can participate?
Current early childhood educators:

Earn your Associate or Bachelor's Degree while working
New/Aspiring early educators:

Professionals new to the early childhood field can earn certificates and degrees while working
Current high school students:

Earn high school and college credit, and participate in work-based learning

Experienced educators with higher degrees:

Receive stipends to serve as a mentor for apprentices
What apprenticeship opportunities are available in Durham?
Complete this interest form and our team will follow up with you about next steps to connect with partnering programs based on your interests and goals!
---
Information for Employers:
How can apprenticeships support my program/business and my workforce?
Salary match of 50% of wages for apprentices through Building Bright Futures (i.e. Reimbursed for 50% of wages paid to apprentices) (*This resource not available for Bachelor's Degree Apprenticeships)

Improved pathways for teacher recruitment and retention

Increased opportunities for staff for advancement and leadership development

Reimbursed for paid release time by T.E.A.C.H. Early Childhood®

Stipends and free professional development for mentors (mentors may be experienced educators on your staff or may be the site director, depending on your center staffing and capacity to supervise on-the-job learning)

Free professional development opportunities for partnering apprentices, mentors, and directors
What are my options as an employer to participate in a registered apprenticeship program?
Become a Partnering Employer with Child Care Services Association's Registered Apprenticeship Programs

: Child Care Services Association (CCSA) will be acting as a sponsoring organization for Registered Apprenticeship Programs in early childhood education in Durham, and employers may choose to partner with this registered apprenticeship program in order to support apprenticeships at your site(s). As the sponsor, CCSA's goal is to reduce the need for partnering child care centers to take on too much additional paperwork, and to standardize some elements of program design so that we can collectively recruit for and promote the program to prospective apprentices, mentors, and centers. For partnering employers, CCSA will manage paperwork associated with registering each apprentice and documenting their progress towards completion. Contact: Maggie West,

maggiew@childcareservices.org

Sponsor your own Registered Apprenticeship Program through ApprenticeshipNC: Centers can also choose to sponsor your own Registered Apprenticeship Program, building a program to specifically meet your needs and capacity and maintaining apprenticeship documentation in-house. Contact the ApprenticeshipNC consultant for the Durham area to get started: Tony McKnight, mcknightt@nccommunitycolleges.edu 
Centers can also choose to host Pre-Apprentice (Current high school students participating in a registered pre-apprenticeship program)

. Pre-Apprentices may be paid or unpaid, depending on the center, and have fewer work-based learning hours required than apprentices. Pre-Apprentices can be an excellent method to grow your own talent and workforce if you have current high school students in your community who would be interested in free community college courses, and tuition waivers to complete their Associate Degree in early childhood education. Contact the Apprenticeship Coordinator at Durham Technical Community College to learn more: Dr. Norman Collins,

collinsn@durhamtech.edu

 
Complete this interest form and our team will follow up with you about next steps to connect with partnering programs based on your interests and goals!
---
Information for Interested Mentors:
The apprenticeship program is currently recruiting experienced early childhood educators to serve as mentors for apprentices. Details of the expectations, qualifications, and compensation for mentors is included below and in this Mentor Role Description.
---
Apprenticeship opportunities in Durham are made possible by: